Joined

May 27, 2023
Messages

27
Reaction score

66
Thank you very much for your help, I really appreciate it!
I will change that wood probably with MDF. I will try to find MDF with 2.5 cm thick to be stronger and I will do the baffle cut-out a little smaller than 351cm. Let's say 345mm that leave the speaker about the same "open" as the 351mm.
Then i will put "insert" nuts M6x15mm or M6x20mm to screw the speaker and make it stable: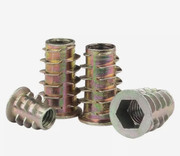 I am already in love with this little cabinet.
I find it in a bad shape, with his lower side almost half broken and very dirty. Just yesterday I glued back the broken side and it is very stable now: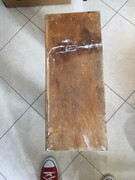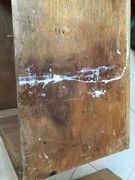 As I don't have a serious Amp already, just a Marshall MG30DFX (that I like), i dream this old little cabinet to be my main amp in the future. I Just need a "head" and will be both ready!