Joined

Feb 11, 2014
Messages

4,172
Reaction score

4,208
Location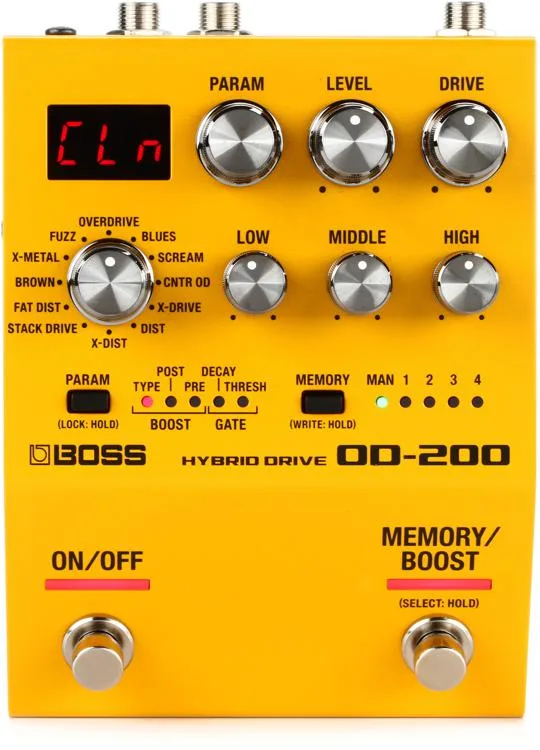 I had MD 200 and I thought it SUCKED tone. I got rid of it 2 weeks after purchase. My review is likely subjective because of this. I had concern OD 200 would suck, too. I don't think it does. I have OD 20 which isn't bad, but I can only get 2-3 workable tones. I also have Tonebone HotBrit on board in case I want to loose BOSS. The BOSS is buffer/true bypass. OD 20 not so much.
OD 200 is combination digital and analogue. I guess BOSS classics are all analogue. I like X-Drive, which I imagine is digital. (It has that digital feel on the strings when I play, which I hate and love at same time.) The unique selling point of this pedal is that you can stack two of the ODs/Distortions, one before or after original OD/Distortion to tweak your own tone. BOOST function gives you an option not available with BOSS classics.
Noise gate is SUPERIOR. Now I've got 3 in my line. I'm not a distortion fan, nor tubescream. However, this pedal does tubescream and fuzz rather well. And Klon is spot on, which you can argue pays for the pedal alone.
The operational parameters are both good and bad. Good because it's rather simplistic, bad because as soon as you switch from one OD to another, all your settings are lost, noisegate and stack volumes. (Digital display allows you at least to write down settings.) After 2 or 3 decades of corksniffing, maybe think about getting back to BOSS with this pedal. It's where a LOT of recordings and performances have stood out over time. Jeff Beck had an original OD-1 and painted it black so no one knew what it was. Joe Walsh is almost all BOSS.
Last edited: