Joined

Nov 2, 2009
Messages

120
Reaction score

47
This is the first time I've done my own amp work. So far, on my 1985 JCM 800, I've replaced the filter cans, the bias trimpot (the original had been replaced with another kind using makeshift top-of-board soldering), converted the amp to 6550 spec, and removed the bias caps. Things have gone pretty well, so far. I want to replace the input jacks because they're dirty and make lots of noise, and since I have the PCB flipped, now's a good time to install ones that will hopefully last another several decades.
The jacks have a couple of bent leads, to hold them in while being soldered. I want to straighten those leads so that I can pull the jacks out. They haven't budged with some slight force (maybe there's a faint trace of solder still holding them in place), and I'm cautious of using more force that might damage the solder pads. I don't see how I might be able to clip the leads to pull them out after removing the old jacks.
Is there a technique to do this safely?
Also, I don't have a variac. Is it important to form new filter cans the first time the amp is turned on with them installed? If so, maybe I'll need to take my amp to a tech for that, or buy something to do the job (any suggestions of what to get?).
Someone who previously owned this amp replaced the bias circuit components (maybe the person I bought it from had it at 6550 spec, and restored it before selling it to me... and now I'm setting it back to 6550 spec), and then replaced the original components by soldering them from the top of the PCB. They clipped R26 and R27 on one side, maybe accidentally while meaning to remove R24 and R25, the bias feed resistors, and then they resoldered them from the top. I have replacements and was going to replace them, but then wasn't going to replace them, to leave the originals in the amp (though, R26 doesn't appear to be the original brown one, but is red, like the replacements I have), but in the photo they look a bit gnarly and now I want to replace them.
D1 was also clipped from the top of the board, and then resoldered back into place. I wonder what they had done there. I have replacement diodes, too. But they don't have the same looking white stripe, so I might just leave that original one in there.
I've tightened the new Ars cans pretty well. I found the bracket clamps needed to be tightened more than they were previously in order for these Ars to not move / slip through brackets when pressed with a bit of force. I they won't be too tight, though I don't really know how to tell what's too tight.
Here's how the bias circuit looked before I did anything to it.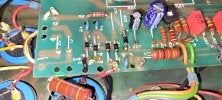 BTW, I don't know if the weight of the old filter cans is relatable to the weight of the new ones, indicating how dried out they were or something, but some of the old cans weighed:
LCR cans: 73.9g, 79.43g
ITT can: 87.38g
unlabelled black can: 98.78g
And some of the new Ars cans weighed: 94.64g, 90.39g, 93.51g
Also, in a previous thread I made, I mentioned that one of this amp's old filter cans was emitting a large electrical spark at one of the bracket screws, and someone mentioned that it could be caused by the bracket clamp being too tight, or there being a burr on the bracket, and maybe cutting into the filter can. I don't know the mechanics of how it works. But the filter can I removed from that spot did have some of its outer plastic covering torn from the bracket, and there's a darkened spot that maybe indicates a burn where it might've been arcing. I wiped some debris from the bracket and put electrical tape around the base of the new Ars can I installed into that bracket.
Last edited: